Qatar Technical Steel Fabrication &Industrial Refrigeration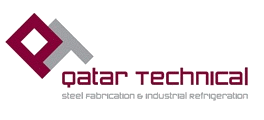 About Qatar Technical Steel Fabrication &Industrial Refrigeration
Company Industry: Manufacturing and Production
Company Location: Qatar
Qatar Technical launched in 2010, is an expansion to our previous company Alfa Industrial Refrigeration; a well renowned institution having more than 20 years of technical experience in Qatar in the fields of steel fabrication and industrial refrigeration. Our growing technical potentials and aspirations to prove our work and stand as a leading manufacturer in the Private Sector lead the next natural step - Qatar Technical. In QT, we incorporated larger and advanced facilities in a production area of 5000 m2, designed to support new-product development and further enhance our existing products by stressing on quality consistency and compliance with international standards. QT comprises of four Business Divisions: Industrial Refrigeration, Standard Products, Steel Fabrication and Machining. In each division, we provide our customers with a wide range of complete solutions tailored to their requirements.

Our vision is for Qatar Technical to stand as a leading institution in both the manufacturing and engineering fields, exceeding technical achievements in the quality and reliability of our products and services to encompass development in other non-technical aspects of human potential. A long-term process realized through the provision of knowledge and awareness towards achieving an advanced, safer and greener work environment.
Vacancies at Qatar Technical Steel Fabrication &Industrial Refrigeration
We're sorry. At the moment there doesn't seem to be any opportunities from Qatar Technical Steel Fabrication &Industrial Refrigeration. Why not try a general search for Qatar Technical Steel Fabrication &Industrial Refrigeration on Emirates 24|7 for other possible opportunities?