ASDA'A Burson-Marsteller Careers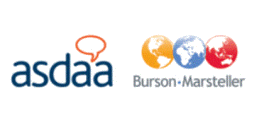 About ASDA'A Burson-Marsteller
Over the last decade, ASDA'A Burson-Marsteller (B-M) has earned its reputation as the Middle East's largest independent public relations consultancy and the benchmark of PR practice in the region. Since its founding in 1999, ASDA'A B-M has played a pivotal role in the development of the Middle East public relations industry. Through its longstanding commitment to providing innovative, results-driven communications solutions, ASDA'A B-M has emerged as the region's premier public relations consultancy. The agency's communications solutions are consistently linked to its client's business results, earning ASDA'A B-M a seat at the executive table as trusted business advisers.

Another cornerstone of ASDA'A B-M in the region is its evidence-based approach to communications. The firm conducts proprietary, in-depth research, such as the groundbreaking annual Arab Youth Survey. Through this and other studies, the agency provides unique perspectives on a range of issues, attitudes and activities in the Middle East. The overarching aim of this survey is to offer public and private-sector institutions knowledge and insights that they can use to connect with the region's largest demographic of the region - 200 million young people out of a total population of over 300 million in the Arab world.

ASDA'A B-M is part of the MENACOM Group, the region's leading communications network, which manages a diversified range of communications firms including: advertising brands Young & Rubicam and Intermarkets; direct marketing specialists Wunderman; media planning and buying firm Mediaedge and interactive firm Tattoo. The MENACOM Group employs nearly 1,200 professionals working across 57 offices in the Middle East and North Africa (MENA) region.

MENACOM is majority owned by WPP, one of the world's leading communications services networks, employing 135,000 people working in over 2,000 offices in 107 countries.
Jobs Vacancies at ASDA'A Burson-Marsteller
Find the latest job vacancies advertised in 2013 by ASDA'A Burson-Marsteller.
Why not try a general search for ASDA'A Burson-Marsteller on Emirates 24|7 for other possible opportunities?