Yellow pages( Egypt) Careers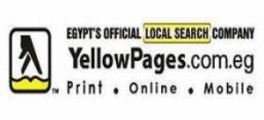 About Yellow pages( Egypt)
Company Industry: Other
Company Location: Egypt
Egypt Yellow Pages Ltdis the official publisher of Yellow Pages branded products in Egypt. Egypt Yellow Pages is the exclusive owner of the Yellow Pages™, and Walking Fingers & Design™, and YellowPages.com.eg™ trademarks in Egypt.

Egypt Yellow Pages Ltd. welcomes all Egyptian based businesses to list their company name, address and phone number in our print and online directories. As always, Egyptian businesses are entitled to one free regular type listing under a category of their choice in both the English and Arabic sections of the Yellow Pages directoryspecific to their location.

Egypt Yellow Pages Ltd. offers cost effective display and informational type advertising to effectively promote a company's goods and services to the marketplace.
Jobs Vacancies at Yellow pages( Egypt)
We're sorry. At the moment there doesn't seem to be any job opportunities from Yellow pages( Egypt). Why not try a general search for Yellow pages( Egypt) on Emirates 24|7 for other possible opportunities?