Edita Food Industries Careers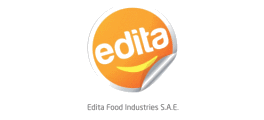 About Edita Food Industries
Company Industry: FMCG
Company Location: Egypt
Edita is a market leader in baked food products with a portfolio of brands that includes Molto Croissant, Molto Cake, Molto Swiss Roll, Bake Rolls and Hostess cakes. The company employs more than 3700 employees and operates 2 factories in 6th of October and 10th of Ramadan cities.
The company started in mid 1997, as the first company to produce filled croissants in the MENA region, starting by Egypt as its opening gate. Hostess® was established in 1995 under license from Interstate Brands Corporation, USA, and was acquired by Edita Food Industries in June 2003. Since then, the company has been modernized and new lines were bought as well as the existing lines were upgraded.
All these products are being exported at the moment to the MENA region and we are looking forward to develop our regional existence.
Jobs Vacancies at Edita Food Industries
Find the latest job vacancies advertised in 2013 by Edita Food Industries.
Why not try a general search for Edita Food Industries on Emirates 24|7 for other possible opportunities?