Petra Drug Store Careers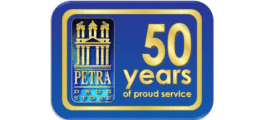 About Petra Drug Store
Company Industry: Pharmaceutical
Company Location: Jordan
Petra Drug Store plays a leading role in the health care sector by providing innovative solutions and world class services to the medical community in Jordan.

For 50 years, Petra Drug Store has been collaborating with major multinationals and adding value to their portfolios by ensuring their products attain a leading position in their markets and actualizing their full potential as well as expanding their markets through public awareness campaigns and consistent segment penetration.

Petra's partners include: Ferring, Ipsen, Bausch + Lomb, Smith & Nephew, Hospira, Mentor (J&J), Celgene, Topcon, Grifols, DeltaLab and Holdipharma.

Petra's teams are devoted to ensure their enduring partnerships with principals and customers remain committed to success and characterized by strong, profitable and sustainable growth.

Petra implements a rigorous quality assurance policy echoing its resolve to continue improving its services to its customers as well as its partners and adheres to ISO (since Y2000) as well as to WHO Good Distribution and Storage Practices.
Jobs Vacancies at Petra Drug Store
Find the latest job vacancies advertised in 2013 by Petra Drug Store.
Why not try a general search for Petra Drug Store on Emirates 24|7 for other possible opportunities?